These gorgeous and bright blackberry-mucuna ombre ice lollies are the definition of edible art! The lollies are truly simple to make – we created gradual shades by dividing the blackberry puree into three bowls and mixing in a creamy coconut yogurt in varying amounts.
We are pretty sure this method would work well with any berry so have fun experimenting with it and let us know.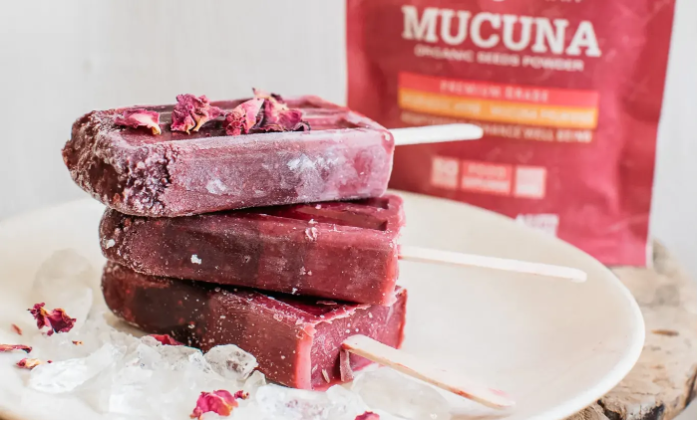 To make 10-12 ice lollies you'll need:
2/3 organic cane sugar
2/3 water
450g blackberries (fresh or frozen would work)
5 tsp mucuna powder
Juice of 1 lemon
5-6 tbsp coconut yogurt - or any other yogurt (divided)


Method:
1. In a smalle pot, on medium heat, make the simple syrup but adding the sugar and water. Bring to a boil, reduce to low heat and cook for about 10 minutes until the sugar is completely melted. Cool before use.
2. To a blender add all blackberries, mucuna powder,
lemon juice and about half of the simple syrup. Blend on high for a couple of minutes or until smooth. Pour about half into a bowl or a measuring cup, ideally through a sieve to get rid of the seeds.
3. Add 3 tbsp of coconut yogurt (or any other yogurt you like) to the blender and blend again until combined. Pour about half to a different bowl, ideally through a sieve to get rid of the seeds.
4. Add 2 more tbsp of yogurt into the last bit of mixture left and blend until combined.
5. If you want to create distinct layers. Add the darkest (or lightest) mixture first and freeze for about 10 minutes before you add the next one. Or just carefully pour them one on top of the other for less distinct results but tasty nonetheless.
6. Freeze for a minimum of 5 hours before gently releasing from the mould. Enjoy!