The perfect pick-me-up afternoon snack to go with your cuppa.
It hits the right flavours combination of sweet and sour and will fulfil any sweet-tooth craving you might have in a bite. We love adding Lion's Mane to our sweet treat because we usually eat them at that 16:00 crash when work just seems to be too much all of the sudden.
For 1 big one or 2 individual ones you'll need:
2 cups all-purpose flour (or gluten free)
1/2 tsp sea salt
1 tsp Lion's Mane powder
12 Tbsp cold butter (or vegan butter/coconut oil/ghee – add slowly as ghee is oilier than the others)
4-6 Tbsp ice cold water
3 cups fresh or frozen blueberries*
3 Tbsp organic cane sugar (plus more to taste)
Zest of 1 lemon
Super easy method that everyone can do:
Preheat oven to 180 degrees C and position a rack in the middle of the oven.
In a large mixing bowl, mix the flour, salt and Lion's Mane mushroom powder. Add the butter into the flour until well blended using a fork (or your hands).
Add chilled water 1 tbsp at a time and stir until the dough scrapes away from the bowl. This will depend on the flour you use, but usually requires around 4-5 Tbsp. If you add too much water, add more flour to compensate.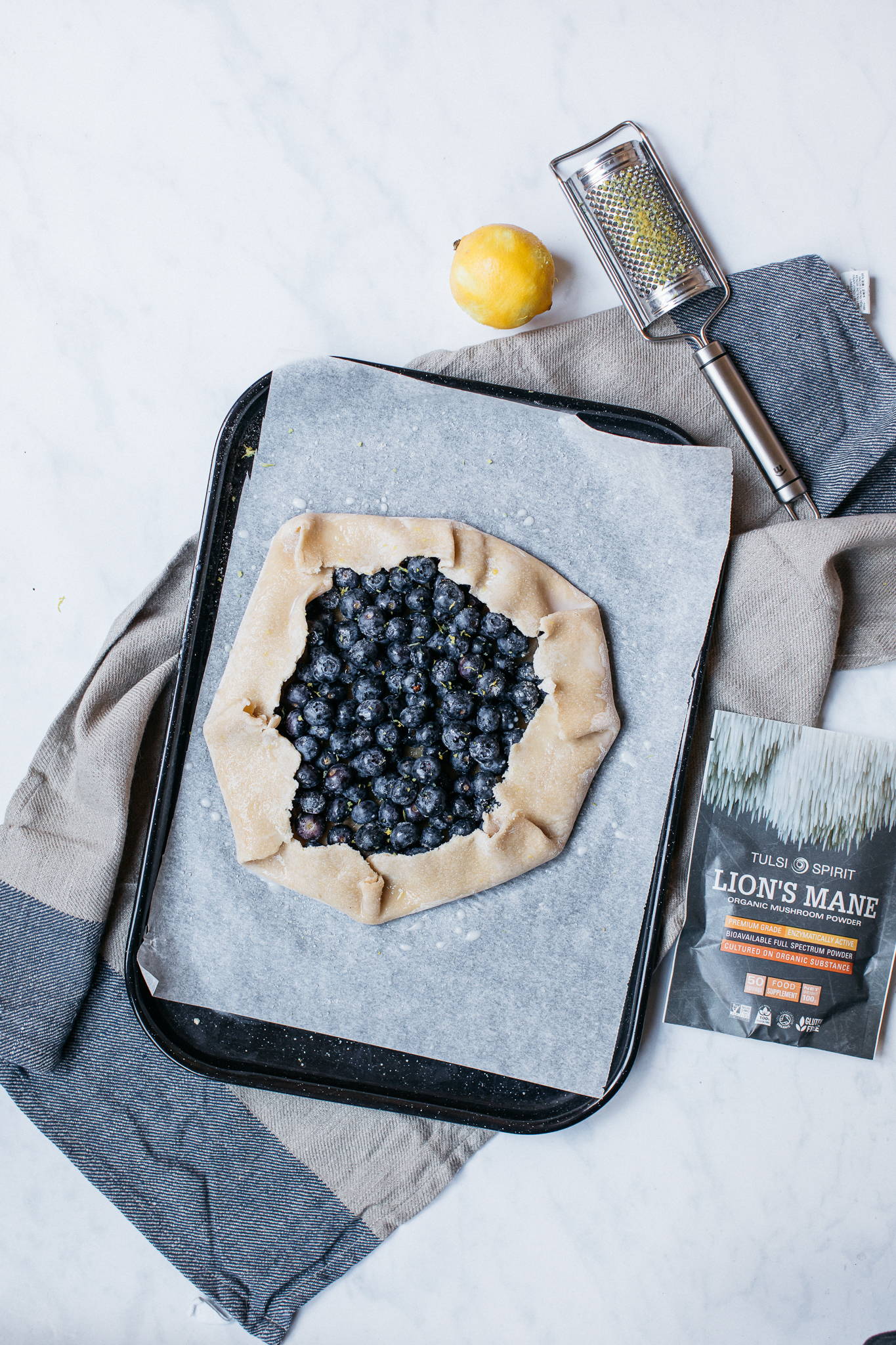 4. Transfer dough to a lightly floured surface. Without overworking, form into a ball. Place in the fridge for about 30 mins or up to a day.
5. Lightly flour a clean surface and using a floured rolling pin, roll the dough out into a rough circle. Carefully transfer to the baking sheets.
6. Add blueberries to the centre of the dough (leave about a centimetre on the edges), add about 1-3 tbsp of cane sugar and lemon zest.
7. Next, carefully fold the crust edges up, overlapping them as you go. Try to ensure no cracks remain or the fruit will seep out during baking.
8. Brush pies with a touch of milk (we used almond) and sprinkle with organic cane or raw sugar to ensure a golden, crisp crust.
9. Bake for 25-35 minutes or until the crust is golden brown and the fruit is bubbly. Serve warm with a scoop of ice cream or whipped cream.
We know it's 9 steps but ensure you it is worth every step because it the best treat ever! And we have so many more delicious recipes over on our adaptogenic food blog so click here to go check them out.
If we inspired you, and you make any of our recipes please tag us on Instagram so we can see your beautiful creations! Use #lifeonadaptogens or #tulsispirit and we'll be able to see what you made.