This Salad is the perfect lunch on the go! Easy to make (and super fun using the spiralizer!) and will keep in your bag for that moment you have some "me" time with your tasty and healthy lunch.
It has Shitake to add superfood to your meal, boost digestion, reduce cortisol and make you glow for the rest of the day!
It is raw, vegan, paleo, gluten free and will suit literally every diet! Just saying… we are 100% converted.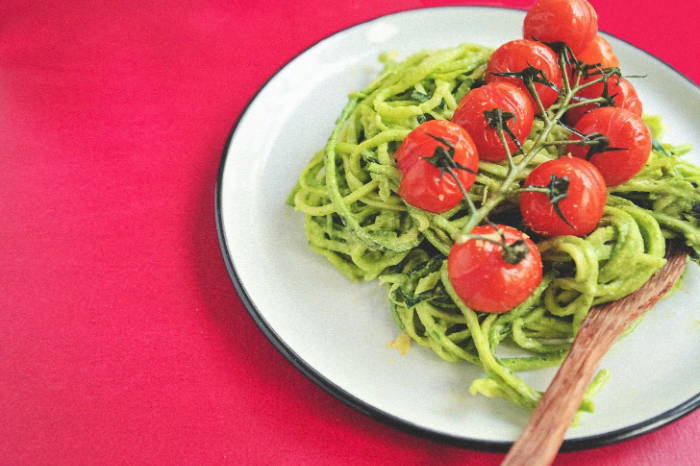 For 2 large or 4 side portions you'll need:
For roasted tomatoes -
Cherry tomatoes
1 - 3 garlic cloves
Olive oil
For the Spaghetti –
4 medium size courgettes
For the pesto -
1 packed cup / 30 g spinach
15g basil
1 garlic clove
½ cup / 30 g raw cashew
1 Tbsp / 5 g nutritional yeast (or parmesan)
2 Tsp Shitake mushroom powder
30 – 50 ml olive oil
Juice of ½ a lemon (optional)
Method:
Pre-heat an oven to 170. Add the tomatoes into a pan with the garlic cloves and olive oil. Once the oven is hot place in and roast for 5 – 7 minutes. The tomatoes should be soft but keep their shape. When ready, places aside.
Using a spiralizer make the courgetti spaghetti into a large bowl.
Now make the pesto. Add all the ingredients into a blender and blend until a creamy texture is achieved.
Let's bring it all together! Add the pesto into the courgettes and mix well (we used our hands for that – adds that extra flavour). You can add the roasted tomatoes in now or place on top later.
Garnish with some extra nutritional yeast or parmesan. Keep in the fridge for 2 - 3 days.