This is one of our favourite snacks! It has an oats and almond base that is GF, super easy to make and a neutral flavour that would compliment any topping. On top of it, there is a rich and super creamy creamcheese filling that is made out of cashews and coconut yogurt which makes it the perfect balance between sweet and sour.
As for the fruit topping, you could literally go with any fruit that you like and have fresh! We made it when figs were in season and their sweet taste works amazingly here. But we also love making it with strawberries or baked cinnamon apples in winter.  
For about 8-10 slices you'll need:
For the crust –
1 1/3 cup gluten-free rolled oats
1 1/3 cup raw almonds (or almond meal)
1/2 tsp sea salt
2 Tbsp coconut sugar
2 tsp Turkey Tails powder
1 Tbsp maple syrup
4-5 Tbsp coconut oil
For the filling -
3/4 cup coconut yogurt
1 cup raw cashews
2 Tbsp maple syrup
2 Tbsp lemon juice
2 Tbsp melted coconut oil
2 tsp Turkey Tails powder
1 pinch sea salt
8-10 fresh figs (or any other fruit)
Method:
Start by making preparations for filling. Soak your cashews in very hot water for 1 hour or 6-8 hours in cool water. Then drain and set aside.
Meanwhile, prepare crust by preheating oven to 180 C and adding oats, almonds, sea salt, Turkey Tails, coconut sugar and maple syrup to a high-speed blender or food processor. Pulse into a fine meal. Then add coconut oil and and pulse until a crust "dough" forms that holds together when you squeeze it between your fingers. If it appears too dry, add more melted coconut oil 1 Tbsp at time and blend.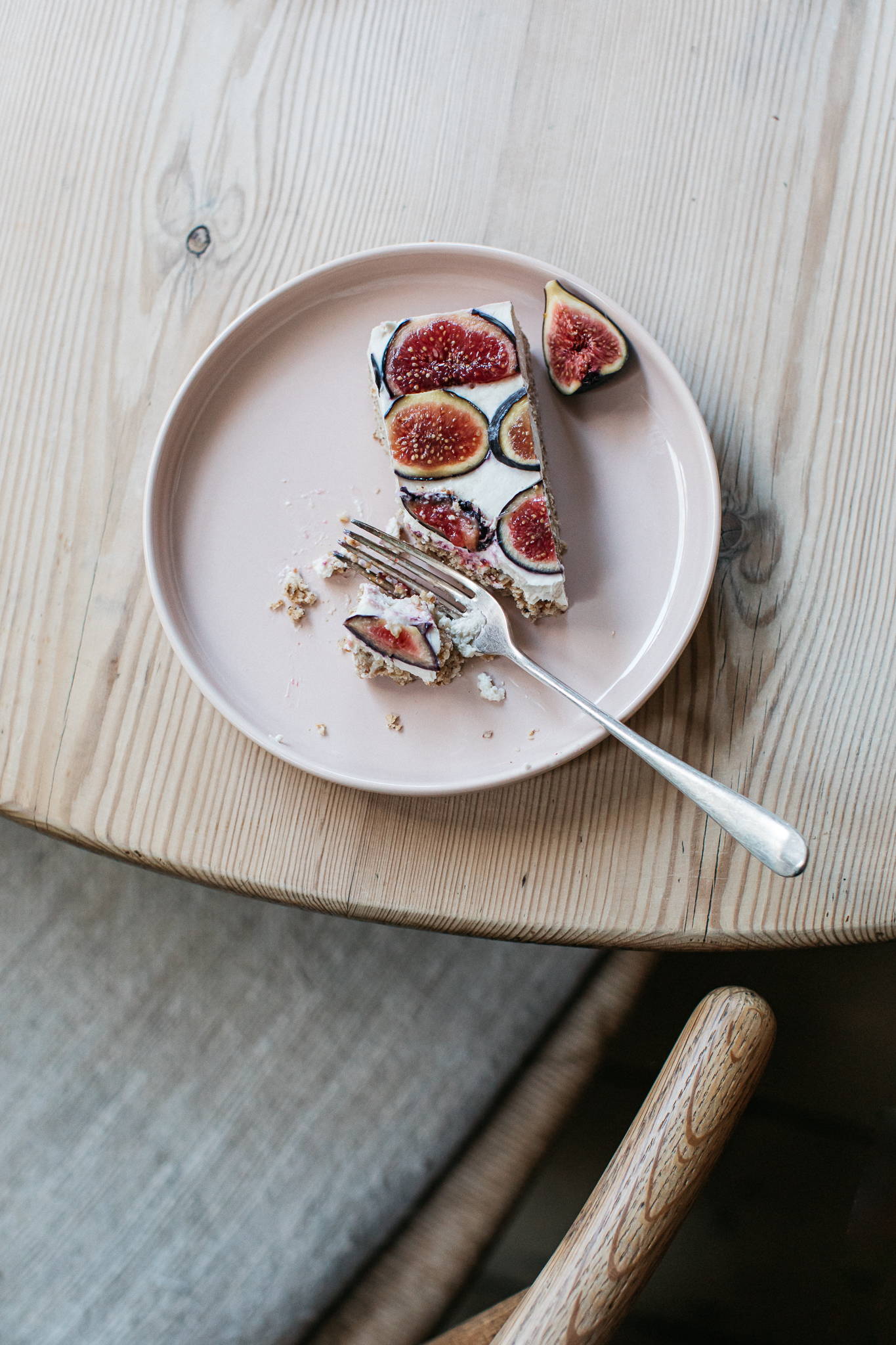 4. Line an 8-inch square pan with grease-proof paper. Then add the crust mixture to the pan and use your hands to spread it into an even layer.
5. Bake for 15 minutes. Then increase heat to 200 C and bake for 5 minutes more or until the edges are golden brown and there is some browning on the surface (Put an eye on it so it won't burn!!). Remove from oven to cool for 5 minutes. Then carefully transfer to the freezer to chill.
6. Make filling by adding coconut yogurt, soaked and drained cashews, maple syrup, lemon juice, melted coconut oil, Turkey Tails and sea salt. Blend on high until creamy and smooth. Then taste and adjust flavours as you wish.
7. Remove cooled crust from the freezer and pour the filling onto it. Gently tap a few times to release any air bubbles. Add the fig slices and push them a bit to set into the filling. Then set back in the freezer and freeze until firm to the touch - about 2-3 hours.
8. To serve, take out of the freezer for at least 1 hour so the filling is more the consistency of cheesecake. Slice into 8 pieces and enjoy! Store leftovers covered in the refrigerator (freezing isn't necessary) for up to 4 days.