The ultimate detox salad that tastes amazing! Focusing on green and dark leafy veggies is the best way to help your body adapt to season changes, boost liver function and help it eliminate the excess cholesterol and toxins. That's why we use delicious broccoli as the base for this salad.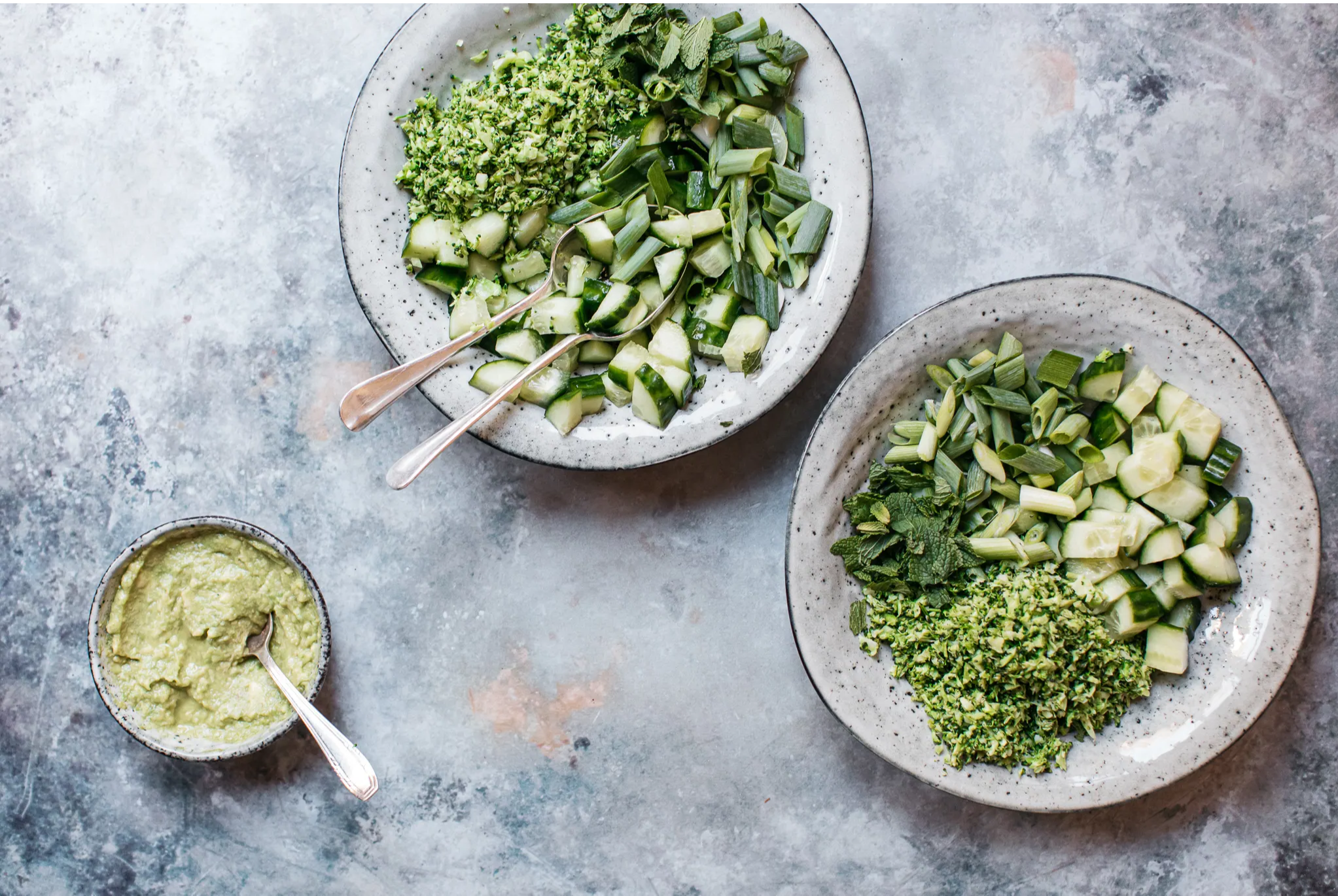 In terms of its nutrient content, broccoli stands out proudly with vitamins that include A, B-complex, C, E and more, minerals that are involved in natural detoxification processes such as manganese, copper, selenium and zinc and fibre and omega 3 in significant concentrations. Many of these contribute to reducing oxidative stress, inflammation and other risks.
The salad combines the broccoli with an avocado sauce, for extra deliciousness that supports healthy hormonal production and a better absorption of the antioxidant nutrients in broccoli. A massive bunch of fresh parsley, mint cucumber and spring onion were also added, to boost the detoxifying properties of the salad. And the fun thing is, you can personalise it! with some chard, beetroot greens (we're hearing zero waste cooking) kale or anything else you have available.
Now let's get into the recipe.
For 2 large salad servings you'll need:
1 Large broccoli flower
1 garlic clove – minced
1 tbsp olive oil
1 cucumber roughly chopped
A bunch of mint, parsley and any other herbs you like
A bunch of spring onion chopped
For the sauce:
1 Avocado
½ bunch of basil
½ bunch of parsley
Juice of 1 lime
Pinch of sea salt and black pepper
1 tsp Ashwagandha
Our easy 4-step method:
Place the broccoli florets in a food processor and process until 'cauliflower rice-like'.
Heat a pan on medium heat, once hot add the garlic and broccoli and a pinch of salt. Sauté for 5-6 minutes, until it is fragrant and taste that it is cooked enough for you – you don't want it too soft. You can let it cool or have it warm in the salad (we like it cold normally)
Make the sauce by adding all the ingredients to a blender (or mashing with a fork for less fancy results) until smooth texture is achieved.
To assemble to salad, add the broccoli, cucumber, herbs and spring onion to a large bowl and dress as you wish. Enjoy!