The ultimate side dish for any dinner or lunch. These sweet potatoes wedges (or purple ones which we used here) have the perfect combination of soft on the inside and crispy on the outside.
The seasoning is delicious but not overpowering and can be easily customised to your liking!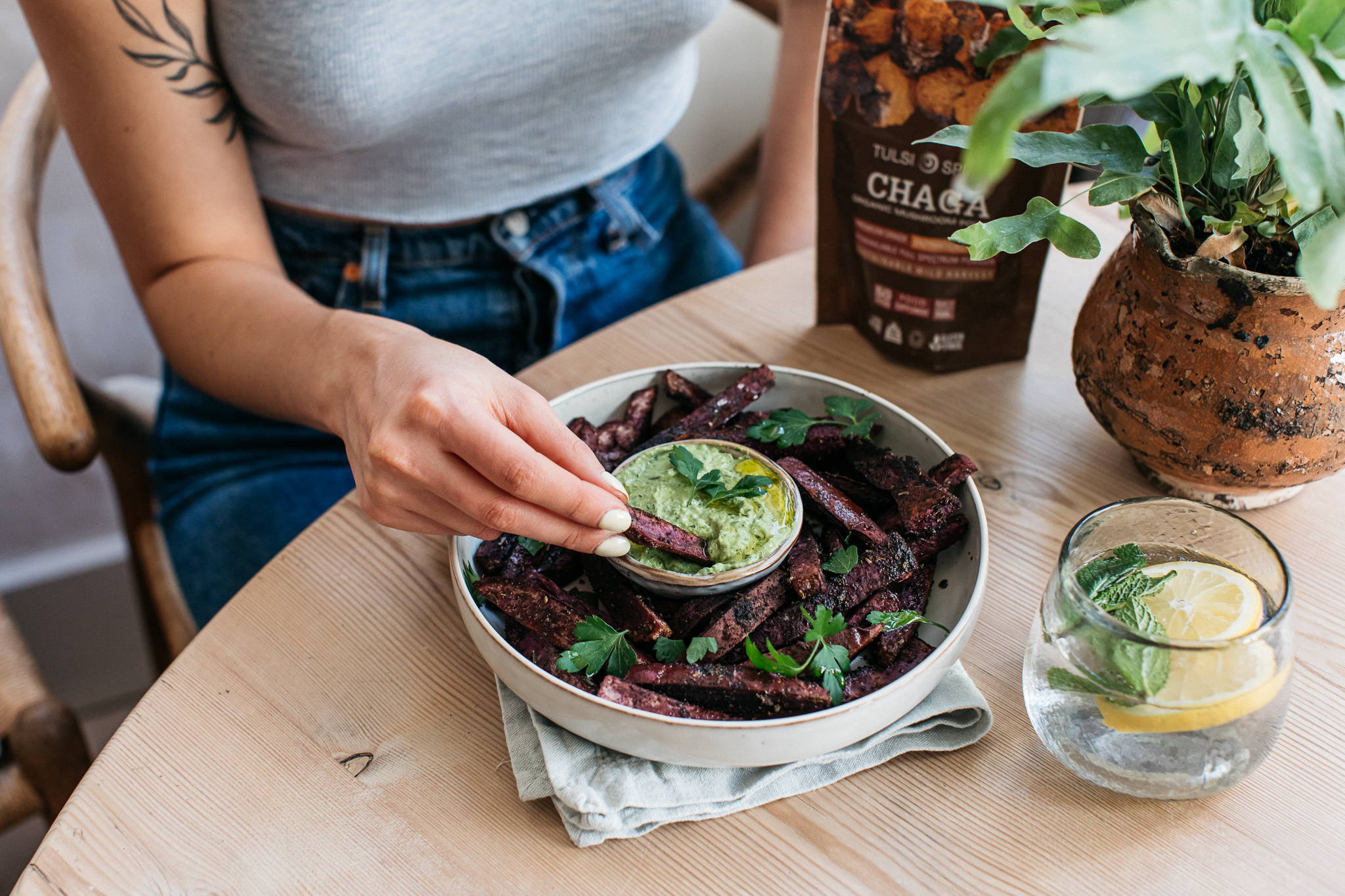 If you can find them, we highly recommend trying this recipe with purple sweet potatoes as purple is one of the colours we have least on our plate normally. And eating all colours has multiple health benefits because they all offer a variety of nutrients, vitamins and minerals in different quantities and absorption levels.
The sauce we like to make for it is made of tahini and all the green herbs and aside from it tasting amazing, it has healthy fats and minerals from the greens.
Now let's get into the recipe.
For a nice full tray you'll need:
200g sweet potatoes (we used purple but normal would work just as well!)
2 tbsp olive oil
2 tsp Chaga powder
½ tsp paprika
½ tsp cumin
Sea salt and black pepper to taste
Sauce –
¼ cup tahini
½ tsp garlic powder
½ sea salt
Large handful of parsley
Large handful of basil
Juice of 1 lemon
¼ - 1 cup water
Method:
Heat your oven up to 200 degrees.
Chop the sweet potatoes into wedges (you want them rather chunky) and add to a baking tray.
Add olive oil, Chaga and spices to the tray and toss to cover all the sweet potato wedges.
Once oven is hot place the tray in and bake for about 20 minutes – until potatoes and crispy on the outside and soft on the inside.
To make the tahini sauce add all ingredients to a blender and blend until smooth, adding water as necessary to reach your desired texture (start with the lower quantity and slowly go up).
Serve with the herby tahini sauce or any other.