We think that you either love or hate artichokes, and we completely understand why. It takes so much work to prep such little food. But honestly it's worth it. Artichokes are in seasons and they are insanely tasty with so little, simple ingredients that celebrate Mediterranean cuisine at its best.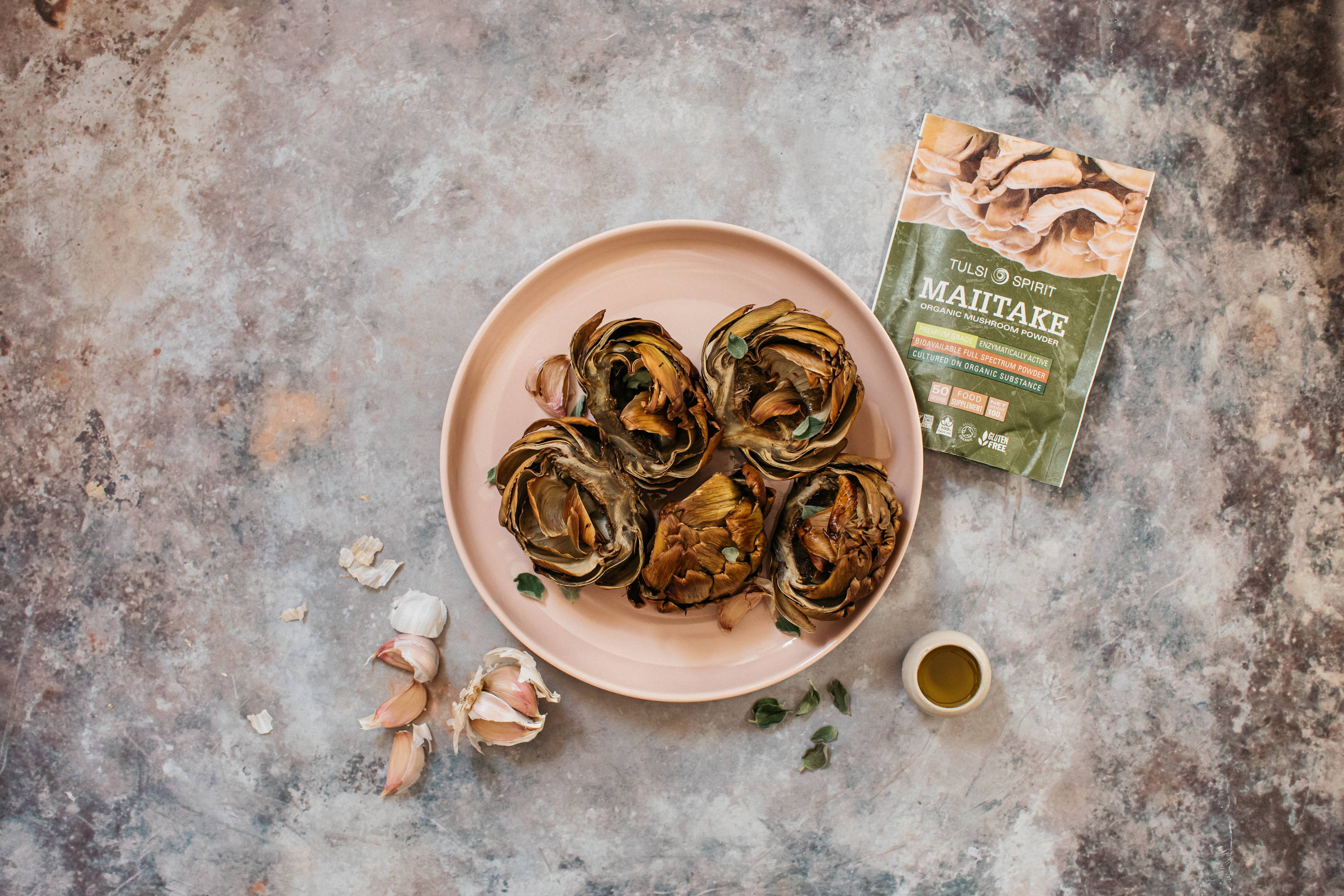 In terms of their nutrient content, artichokes contain many antioxidants and minerals that work beautifully together with the Maiitake mushroom powder to offer you a side option that has minimum calories and maximum flavour.
It can act as a side dish or a started to your Mediterranean evening in the sun that will get your Agni (digestion fire) going and stable your blood sugar to enable you to enjoy your evening.
Ingredients:
5-6 fresh artichokes
Juice of 1 lemon
2-3 garlic cloves - crushed
2 tsp Maiitake mushroom powder
Olive oil - to taste
Sea salt and black pepper
Optional:
Fresh oregano leaves
Feta cheese
Chopped red onion
Capers
Method:
Turn your oven on to 200 degrees C.
Wash you artichokes thoroughly and remove the small, hard leaves that are close to the stem. Using a sharp knife cut each artichoke in half and place in the backing tray. Drizzle with some lemon juice to avoid browning.
In a small bowl mix the crushed garlic, Maiitake mushroom powder, olive oil, salt and pepper and fresh oregano. Pour over the artichokes evenly. We also like adding some whole garlic cloves (with the skin) to the baking tray for maximum aroma.
Place baking tray in the oven and roast for about 30-38 minutes. They are ready when it's easy to insert a knife into the meaty area of them.
Serve as is or add a fresh drizzle of olive oil, feta cheese or any other garnishes. Enjoy!