You know how sometimes you just gotta do something for yourself? So this one is for me. Pistachio ice cream is my favourite ice cream and ever since I learnt I can make it at home using real healthy ingredients I'd say it's in my freezer most year round.
It has banana, avocado, pistachios, tulsi and coconut that's it! I'm not sure I can call it a recipe but hey why not share the love to this incredible treat?!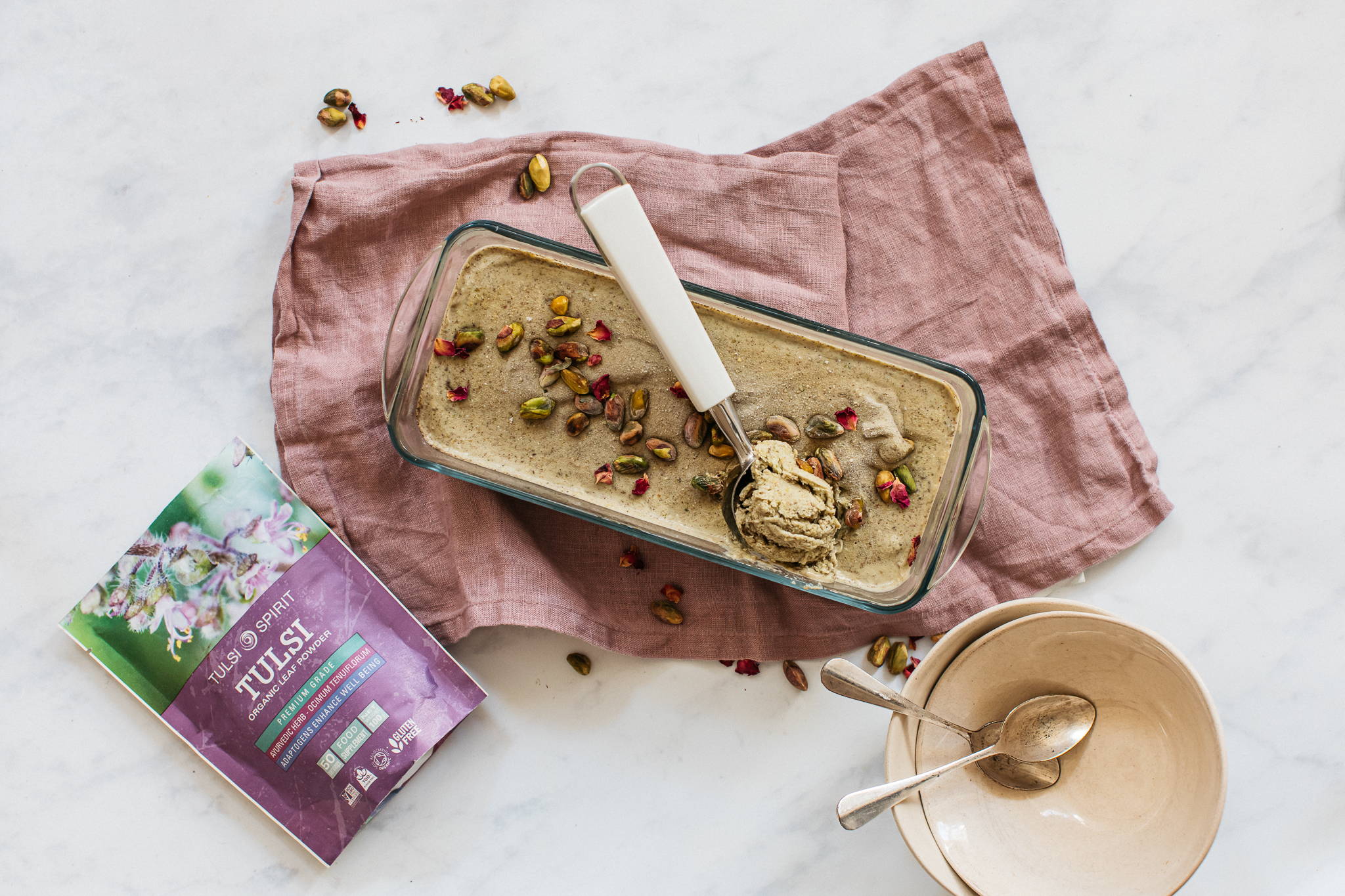 This nice cream is packed with healthy fats and soothing vibes.
Bananas are a huge go-to for us, especially when it is this time of the month as to potassium can be really relaxing and helpful with crumps and all the fun. Avocado and coconuts are known for its healthy fats qualities and pistachios are just as well. I love adding Tulsi to it because it helps support exactly those things that the other ingredients are supporting but obviously in a heightened way so it just takes it to the next level in my opinion. It also has a delicate sweet-herby taste the I personally love.
For 2-4 portions you'll need:
4 bananas - frozen
1/2 avocado
1/4-1/2 cup of coconut milk
1/2 cup pistachios
1 tsp tulsi powder
100g frozen coconut flesh (optional)
Easiest method ever:
1. To blender or food processor (we use a vitamix) add all the ingredients. When we can find frozen coconut flesh (Ocado has it) we love adding it for more depth of flavour but you won't miss it too bad so if you can't find it don't worry about it.
2. Turn on a blend until smooth and soft but not too watery. If it won't blend then add a bit more coconut milk/water and try again.
3.Place in the freezer for 30 minute up to an hour to stabilise and enjoy with extra pistachios.