This is our go-to pre workout snack! You know when you want to eat something before the workout or yoga class, but a full-on meal is just too much. This is where these nutrient packed little guys come in.
They have cordyceps to get your energy up and ready and maybe help you do that extra vinyasa. They're also delicious containing superfoods and amino acid rich protein to really give you a boost.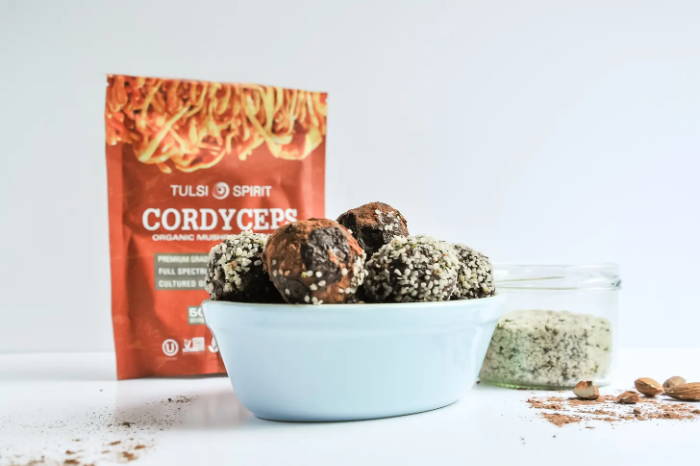 For about 15 balls you'll need:
1 cup / 200 g dates (we used medjool)
2 cups / 240 g raw nuts (we blended almonds and walnuts half-half, but any would work)
6 Tbsp / 38 g cacao powder (plus more for rolling)
3 Tbsp / 28 g hemp seeds (plus more for rolling)
2 Tbsp / 30 g cordyceps powder
Pinch of sea salt
4 Tbsp / 60 g nut butter (we used hazelnut)
1 Tsp coconut oil (optional)
Method:
Pit the dates and add to a food processer and mix until a ball forms/it breaks into small bits. Transfer to a bowl and set aside.
Add the raw nuts to the same food processor and pulse to a meal.
Add into the nut meal the processed dates and the rest of the ingredients. Pulse a couple of times to combine.
Place in the refrigerator for about 10-15 minutes.
Once cold, scoop out a tablespoon amount and make into a ball. This mixture is somewhat fragile so make sure to gently use your hands to make the balls. You should have 15-20 bite size balls in total.
Roll in extra hemp seeds or cacao powder. The balls rolled in the cacao might get a sticky outer texture, but we didn't mind that at all!
Store in a sealed container in the fridge for up to a week or in the freezer for up to a month.