This is a beautiful healthy variation on sticky chicken wings and it honestly tastes better - so don't judge before you try.
The cauliflower is extra crispy and the sauce extra sticky so beware – it's almost impossible to stop eating them.
We love making the sort of recipes that you can make when entertaining. And you'll probably want to double up when make these babies, cause they'll might just be gone before you get to have any.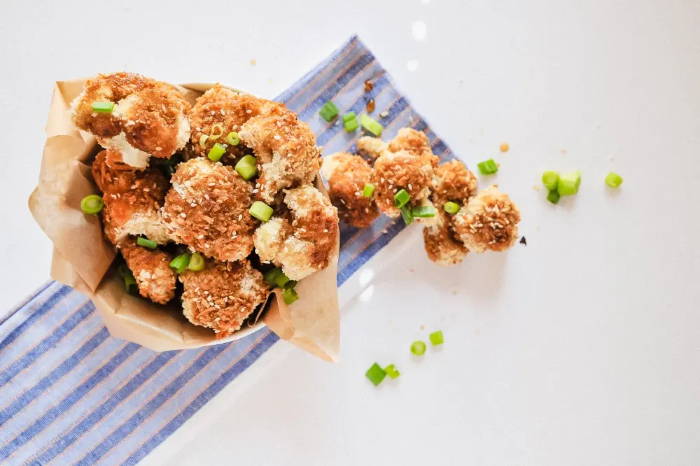 In 20 minutes with minimum work, this recipe will make 20 cauliflower florets
Ingredients:
1 cauliflower
1/2 cup / 68 g flour (gluten free would work great as well)
1/2 cup / 120 ml almond milk
1 Tsp Chaga mushroom powder
1/4 Tsp sea salt
1/2 Tsp ground black pepper
1/2 Tsp garlic powder
1/2 Tsp chilli flakes (leave out if you don't like spice)
1 cup / 128 g panko bread crumbs
Sauce -
4 Tbsp / 60 ml maple syrup
3 Tbsp / 45 ml coconut amino (sub tamari or soy sauce – adjust flavour as can be more dominant)
½ Tsp sesame seeds
½ Tsp chilli flakes
½ Tsp ground ginger
½ Tsp Lion's Mane mushroom powder
Spring onion – for garnish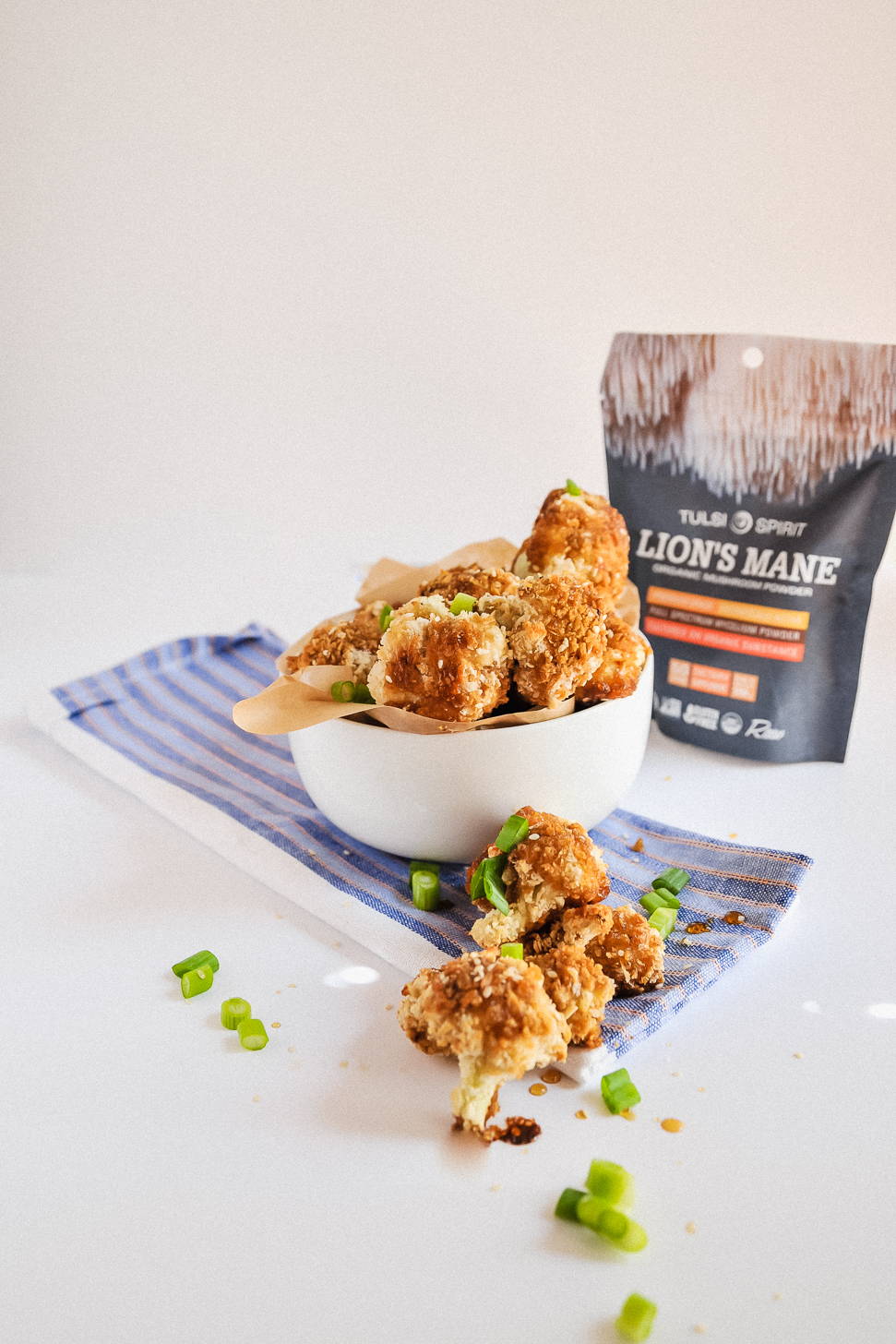 Method:
Preheat oven to 200 degrees. Prepare a baking sheet by lining it with grease proof paper.
Divide cauliflower into florets.
In a bowl, whisk all the batter ingredients together EXCEPT the bread crumbs.
Place the bread crumbs in a separate bowl.
Toss the cauliflower in the batter, shaking off excess batter. Don't soak them. Then, dip the cauliflower into the breadcrumbs to coat completely and place onto the baking sheet. Repeat until all of the wings are coated.
Bake for 22 minutes. While baking, prepare the sauce by whisking all the ingredients together.
Remove cauliflowers from the oven. With a pastry brush, brush the sauce onto the florets. Bake for another 5 minutes for the sauce to soak.
Garnish with some extra sesame seeds and spring onion.