OMG! This is the best meal on a hot day! Will keep you going for a while, it's easy and fun and full of fresh Vietnamese
flavours. This dish is what you would expect to get in your local Vietnamese but even better! Make it to your friends and family, on or off the grill. With Ashwagandha and Cordyceps for energy, balance and improved mood (and not just because the food is amazing!)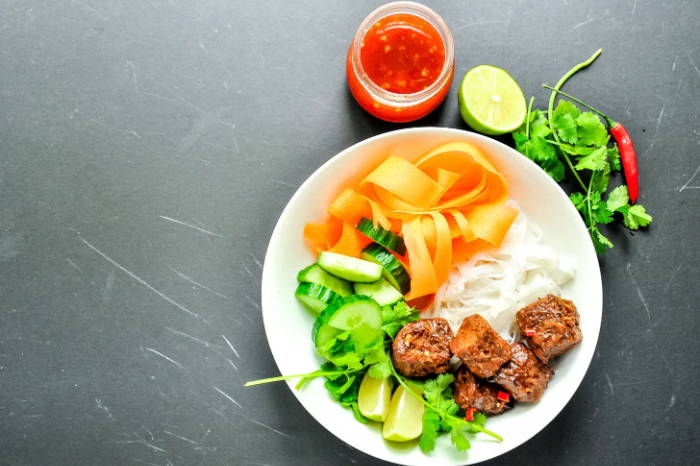 For 2 large bowls you'll need:
For the tempeh-
1 packet of tempeh (ensure GMO-free)
2 tsp chopped chillies
1 Tbsp sesame oil
2 Tbsp peanut butter (or any other nut or seed butter)
6 Tbsp coconut amino (or sub tamari / soy sauce)
3 Tbsp lime juice
2 Tbsp maple syrup (or honey)
4 cloves garlic
1 heaped Tsp Ashwagandha powder
1 Pinch sea salt
1 stalk lemongrass
For the dressing –
3 Tbsp sweet chilli sauce
1 Tbsp sriracha (adjust to desired level of spice)
Juice of 1 lime
1 Tsp Cordyceps powder
For the bowl –
200 g rice noodles - cooked according to packets' instructions
2 carrots ribboned
1 cucumber roughly cut
Banch of coriander
Method: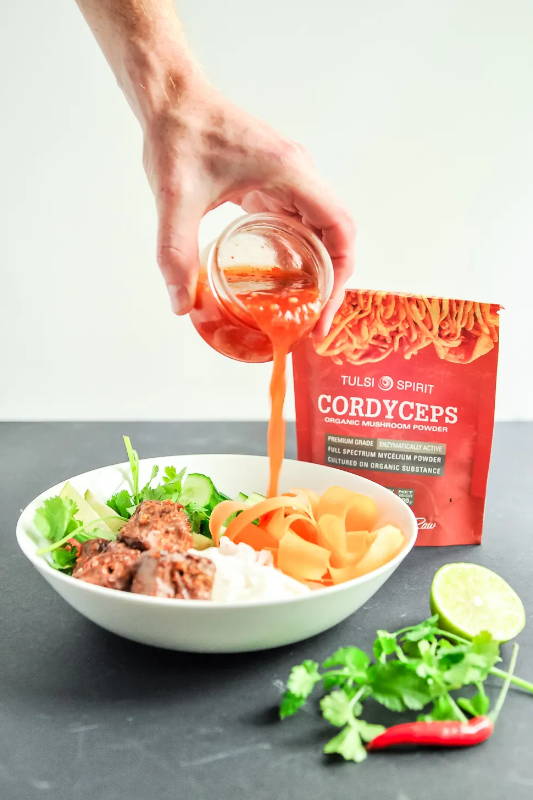 Make tempeh marinade by adding all ingredients to a food processor. Blend until thoroughly combined.
Taste and adjust flavour as needed, adding more chili for heat, maple syrup for sweetness, lime juice for acidity, or coconut amino or salt for saltiness. Don't be shy - you want this extremely flavorful!
Add the sliced tempeh to the marinade and toss to coat. Then cover and place in the fridge for at least 2 hours, preferably 24 hours. I found that 24 hours infused the most flavour! It's best if the tempeh is marinated in a shallow dish to ensure all pieces are submerged in the marinade.
Once marinated, preheat oven to 180. Add tempeh to grill/oven-safe skewers and arrange on your baking sheet. Reserve any leftover marinade to brush the tempeh with once baked.
Bake for 20-30 minutes or until deep golden brown, flipping once at the halfway point for even cooking.
While tempeh is in the oven prepare noodles, cut cucumber and make ribbons from the carrots using a peeler. Add to serving plates. Be generous with the coriander, it adds so much! Trust us on that one!
Make the sauce by combining all ingredients in a small bowl and mixing together.
When tempeh is ready remove from oven and brush with any remaining marinade. Add to the noodles bowl and serve with the sauce on the side.